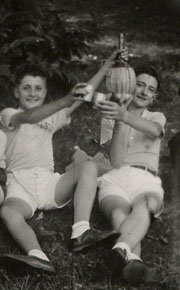 Nonno Pino and Zio Renato ca.1935
PLEASE NOTE: 4 bottle minimum order for shipping.
Current Releases
2017 Estate Nebbiolo, Green Valley of Russian River Valley
Number of cases produced: 75
Price: $35.
Dried red berry and black cherry meets floral notes of wet rose, earthy mushroom and licorice root with a hint of something toasty. The dry conditions of the 2017 vintage made for a more concentrated wine, but make no mistake this is stil a Nebbiolo through and through. Rich and complex with that classic Nebbiolo structure, we recommend giving this one a bit of air (dust off that decanter!) to allow it to open up and shine. A no-brainer for winter meals – think of the layered umami flavors you get when roasted veggies or meats carmelize – this is the wine for that. Aged 4 years in neutral French oak.
2018 Estate Pinot Noir, Green Valley of Russian River Valley
Number of cases produced: 150
Price: $30.
From our dry farmed Green Valley vineyard, 100% whole cluster, foot stomped crush. Aromas of red cherry are tempered with notes of mushroom and damp earth. Bright lively acidity meets flavors of berries and herbs. Fresh and light on its feet, this Pinot still has the structure to age for a long time. Aged 3 years in neutral French oak. 2018 was one of those magic years when quality and quantity lined up perfectly - a vintage of joy.
Special Offers:
The Whole Straw Bale Barn:
(full case) 6 bottles each 2017 Estate Nebbiolo, 2018 Estate Pinot
Price: $350 (a $390 value)
Half the Barn:
(half case) 3 bottles each of 2017 Estate Nebbiolo, 2018 Estate Pinot
Price: $180 (a $195 value)
Bare Necessities 4-pack:
2 bottles each 2018 Estate Pinot, 2017 Estate Nebbiolo
Price: $125 (a $130 value)
Free Shipping in California
Sorry but we cannot ship to: AL, AK, AR, KY, MS, OK, SD, UT